Upgrade your Indoor Air Quality, Today!
If you need to increase the level of humidity in your home (especially in the winter) we have a line of humidifiers that work with all budgets, priced affordably. Experts say the ideal relative humidity level is between 30% and 50%. If your level is too low or too high, you'll begin to notice issues like mildew, mold, dry skin, and bloody noses, etc.
If you're looking to add moisture to the air in your home, our technicians at Hilliard-Dublin Heating & Air are the Indoor Air Quality experts! We want you and your family to live in comfort, breathing the best quality of air possible. Give us a call today to schedule services!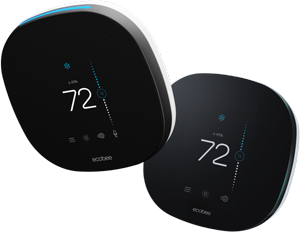 1.) Non-Programmable Thermostat
A non-programmable thermostat is very simple. Any time you want to change the temperature in your home, you'll need to adjust the setting on the thermostat manually. You cannot pre-program the thermostat to change your home's temperature while you're away or sleeping. A non-programmable thermostat is ideal for those who are rarely away from home.
3.) Programmable Thermostat
With a programmable thermostat, you can pre-program it to adjust the temperature at any time of the day. Many programmable thermostats have daily and weekly settings. In doing so, the furnace doesn't have to work so hard to heat the home. This will decrease wear and tear on the unit. A programmable thermostat is especially ideal for those living in climates with drastic temperature changes.
2.) Smart Thermostat
A smart thermostat easily integrates with various home automation tools and equipment. Over time, the thermostat learns your living habits and adjusts the temperature accordingly. It'll learn when you arrive home each day. As it notices patterns, it stores the information to achieve maximum heating and cooling efficiency. Many smart thermostats come with voice control features and are compatible with Google Assistant or Amazon Alexa. Smart thermostats are ideal for tech-savvy households that prefer optimal indoor comfort.
4.) Wi-Fi Thermostat
Wi-Fi thermostats connect to a wireless network. You can access the network via your mobile device. This allows you to remotely adjust the thermostat's temperature. A Wi-Fi thermostat is also a programmable thermostat. This type of thermostat is particularly ideal for those who want full authority over a home's temperature setting even when they're away from the house.
We've Got Deals on Thermostats!
Help keep your energy bills down by getting a programmable thermostat. Many families are gone all day or out of town for the weekend – programmable thermostats allow you to schedule everyday heating needs and have a vacation schedule as well, helping keep your home the perfect temperature for your busy life! Learn more about this deal and schedule today!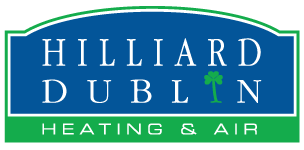 $299 Wi-Fi Thermostat + Installation
Save $100 | Regular $399
If you want to upgrade your home's heating or cooling system, or if you need assistance covering the cost of repairs, we encourage you to take advantage of our financing offer. We at Hilliard Dublin Heating & Air have joined forces with Wells Fargo Bank to make the Carrier® credit card1 available to help our customers in keeping their home comfortable year-round.