Residential AC Repair Services in Hilliard, Ohio & Dublin, Ohio
If you are still unsure about whether you should call an AC repair company, here are some signs to look for before experiencing a complete breakdown:
Your air conditioning doesn't cool as well
Thermostat reads lower than actual temperature
AC shuts off before your home is cooled to the target temperature
Unusual noises coming from outside unit
Excess water dripping around indoor or outdoor AC equipment
AC Breaker trips and won't reset and/or trips continuously
Fan constantly cycles on and off
Utility bills are higher
Many of these could be relatively simple fixes, and taking care of them now could save you money down the road! Our licensed service technicians are qualified to work on any type of residential HVAC equipment. That includes common residential central air conditioning units, split systems, air handlers, and heat pumps. It doesn't matter if you have a brand-new AC unit or something that looks like it's been around longer than the house itself. Get us access to the equipment, and we'll find the problem and fix it.
We repair and replace blowers, breakers, capacitors, compressors, condensation pumps, condensers, control boards, coolant, evaporator coils, fans, Freon, gas, refrigerant, r22, 410A, relays, switches, thermostats, and just about anything you can think of related to cooling your home. If it's an air conditioner, we service it!  Some of the name brands you might see on your equipment include: American Standard, Amana, Armstrong, Bryant, Carrier, Coleman, Comfort-Aire, Frigidaire, Goodman, Kelvinator, Lennox, LG, Maytag, Mitsubishi, Rheem, Tempstar, Trane, Rudd, Westinghouse and York.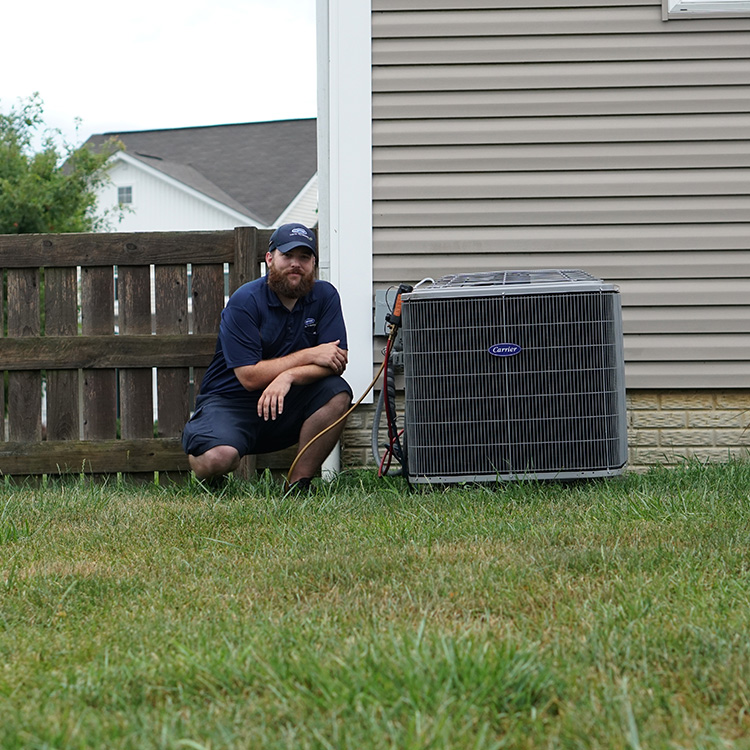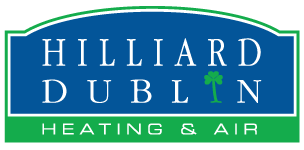 10% off Service Call
Book Now
Save 10% on a Service Call
If you're experiencing difficulties with your HVAC system, it's time to schedule a diagnostic service call with our expert HVAC technicians at Hilliard-Dublin Heating & Air. We know you will save time and money with our Diagnostic Services because of our competitive prices to help you decide what you need to repair or replace your HVAC equipment. Of course, this goes without obligation to have our technicians do the actual work if you're considering other options. However, if you choose our services, we guarantee you we can have you set up and on your way typically the same day.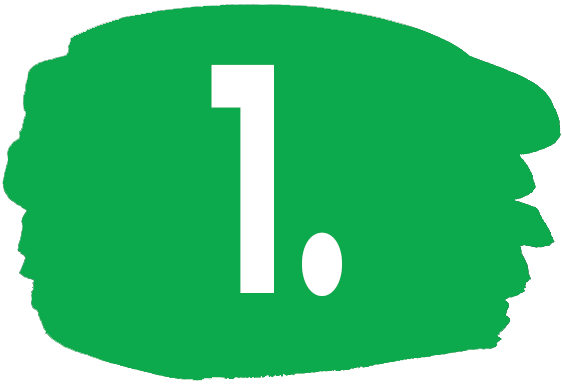 LOW REFRIGERANT LEVELS
Refrigerant is the substance that absorbs heat out of the air in your home and pumps it outdoors. If you are low on refrigerant, a problem that is caused by a refrigerant line leak, you may notice that your AC isn't providing enough cool air, is making a hissing noise, or is short cycling. If the refrigerant level is too low, your AC may not function at all.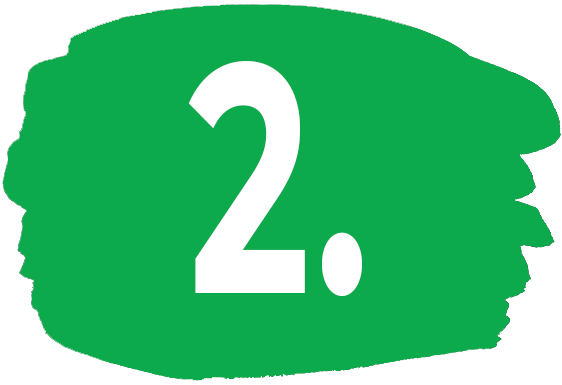 BLOWER MOTOR PROBLEMS
Your blower motor powers the fans that pull in hot air and push out cool air into your house. Obviously, if there is a problem with the motor, then the fans won't operate well either. Listen for screeching noises that indicate a dry or worn out fan belt. You may also discover a blower motor problem by reduced or nonexistent airflow.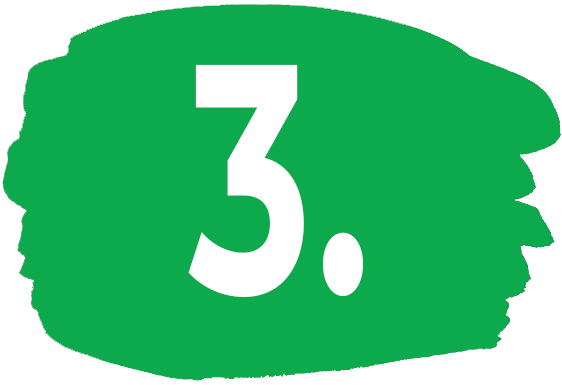 DIRTY EVAPORATOR COILS
Refrigerant cycles through your evaporator coil where it is able to absorb heat. Over time that coil may collect a coating of dust and dirt (your filter can only do so much). When that happens, it limits the ability of the refrigerant to absorb heat. This will lead to short cycling and it may cause the coil to ice over.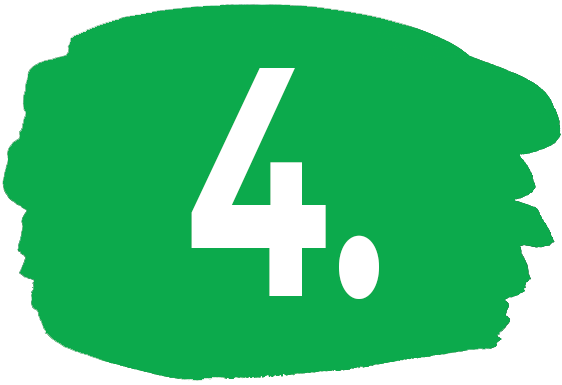 NON-FUNCTIONING UNIT
If you struggle to get your air conditioner to turn on, it could be a mechanical problem or an issue with your thermostat. Our professionals can help you no matter what the issue is. We're the experts in AC Repair!
Our Customers Satisfaction is our #1 Goal.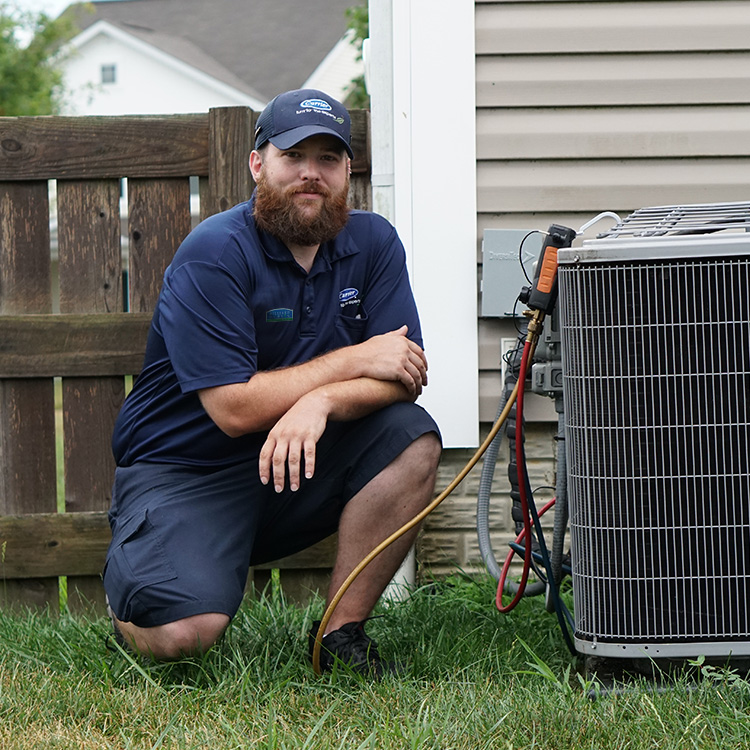 What are our Qualifications?
There are many heating & cooling companies that service the Dublin, Ohio area seeking your attention, especially when you are trying to restore service as quickly as possible!  Our promise is pretty simple:  If you see a heating & cooling technician in our uniform, he is a trained specialist, W-2 employee of our company, and must undergo stringent background checks and drug testing.  We probably require better work performance than the average local business.
Our technicians complete many hours of extensive in-house training, pass written exams, and hands-on skill assessments. They also attend mandatory weekly training sessions to keep them up-to-date on the latest in heating & cooling trends; the newest innovations; and the city, state and federal heating & cooling guidelines.
We follow an extensive set of HVAC industry best practices that we are constantly adjusting so you know you're getting the best quality workmanship in Hilliard & Dublin, Ohio.
Is AC expensive to fix?
The cost of fixing an air conditioner can vary depending on several factors such as the type and model of the AC, the extent of the damage, and the cost of parts and labor in your area. Generally, a minor repair can cost anywhere from $100 to $500, while a major repair or replacement can cost upwards of $1,000 or more. It is important to keep in mind that regular maintenance can help to extend the life of your AC and prevent expensive repairs down the road.
What is the most common AC repair?
The most common air conditioning (AC) repair is the replacement of a faulty compressor or a malfunctioning fan motor. Other common AC repairs include refrigerant leaks, clogged air filters, and electrical issues such as damaged wiring or a faulty thermostat. These repairs can range in cost and complexity, with some being relatively inexpensive and simple to fix, while others can be much more extensive and costly. Regular maintenance and prompt repairs can help to prevent these issues and extend the life of your AC.