Experiencing an HVAC Emergency? We Can Help.
At Hilliard dublin Heating & Air, we understand that you can't always predict when a problem with your heating or cooling system will occur. As part of our 100% Satisfaction Guarantee, we're here for you whenever you need us! We offer emergency HVAC services in Lebanon, OH, and surrounding areas. Even if it's the middle of the night or on a holiday, we'll gladly assist you with high-quality emergency repair services for your heating or cooling system.
When it comes time for service on any residential heating or cooling system, you want it done affordably and stress-free. At Hilliard Dublin Heating &Air, we don't make promises, we make guarantees. Our guarantee is simple: We guarantee you'll experience high-quality service from our NATE-certified technicians and friendly customer support from start to finish.
No matter what situation you're facing, our team of certified technicians is equipped to handle anything that could come their way, 100% Satisfaction Guaranteed.
Over 45 years of HVAC Experience.
As part of our 100% Satisfaction Guarantee, we pride ourselves on having highly-skilled technicians, friendly customer support, high-quality products, and top-ranked HVAC services. Schedule services with us today!
Quality Products
We only carry top-of-the-line HVAC brands such as Trane, Lennox, Goodman, and many more. Our trucks stay stocked with equipment and replacement parts during every dispatch so our technicians are ready to solve any problem that may arise, all while being mindful of your time.
Service
We specialize in providing high-quality Heating, Cooling, and Indoor Air Quality Services in the Hilliard and Dublin, OH areas. Not sure what HVC services you need? We provide free online estimates!
Customer Support
We operate from 7 am – 9 pm, 365 days of the year (including holidays). Our courteous customer support team is standing by to answer any and all questions you may have. In case of an HVAC emergency, don't hesitate to call us right away.
Performance
Our highly-skilled, NATE-certified technicians are heavily trained on the best HVAC practices and customer interaction. When they visit your home, they'll be friendly, respectful, clean, and knowledgeable. We pride ourselves on our efficient performance, making our visits quick and painless.
The Deals You Want, and Need!
An inefficient or poorly performing heating and cooling system will not fix itself. Avoid discomfort and get an experienced technician to figure out what's wrong with your heating or cooling system before it's too late! Learn more about this deal and schedule today!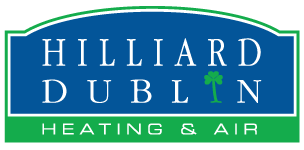 10% off Service Call
Book Now
We Service all Brands of HVAC Equiptment.
With over 45 years of experience, we've encountered homeowners who were concerned they might have a type of system brand or certain style that we wouldn't recognize to work on. We're happy to tell you that's never been the case. It doesn't matter what type of system you have, whether your HVAC system is extremely old, or brand new, our service technicians are trained extensively, and have a vast range of knowledge. We assure you, we can always help.
We service all brands of heating and cooling equipment, including top brands like Carrier, American Standard, Amana, Coleman, Trane, Comfortmaker, Frigidaire, Bryant, Gibson, Goodman, Heil, Maytag, Lennox, Rheem, Tempstar, York, and more.
No matter what kind of heating or cooling system you have, no matter how old or rare it is, we are the right team to call for help.
Top 2 Furnace Repair Warning Signs.
Non-Responsive Unit
What does it mean when you turn on the heat and nothing happens? This means you might have a faulty thermostat, or you could have leaks in your air ducts. A third cause could be related to your pilot light. In any case, if your system isn't responding to your thermostat, you'll want to give us a call!
Unusual Noises
It's completely healthy for a furnace to make noise. You should hear the motor 'hum' from time to time. However, it is not normal for a furnace to start making loud noises or unusual sounds. The difference between these sounds is fairly noticeable. If you are hearing loud noises similar to metal screeching or grinding, pounding, whistling, slamming of any kind, you need to have a professional look at it before it breaks down or causes bigger problems.
If you want to upgrade your home's heating or cooling system, or if you need assistance covering the cost of repairs, we encourage you to take advantage of our financing offer. We at Hilliard Dublin Heating & Air have joined forces with Wells Fargo Bank to make the Carrier® credit card1 available to help our customers in keeping their home comfortable year-round.